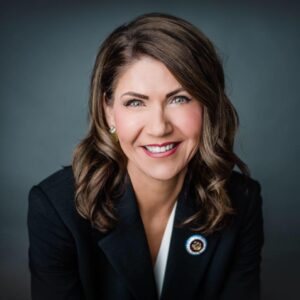 33TH GOVERNOR OF SOUTH DAKOTA
SWORN IN: JANUARY 5, 2019
SECOND TERM
NEXT ELECTION: NOVEMBER 2026 (Term Limited)
Governor Kristi Noem is a rancher, farmer, small business owner, and New York Times bestselling author of Not My First Rodeo: Lessons Learned From the Heartland.
In 2010, after serving in the South Dakota legislature for several years, Noem was elected to serve as South Dakota's lone member of the U.S. House of Representatives. During her time in Congress, in addition to many other successes, Governor Noem helped pass the Tax Cuts and Jobs Act, which put $2,400 back in the pockets of the average South Dakota family.
In 2018, with the platform of protecting South Dakotans against tax increases, government growth, federal intrusion, and government secrecy, she was elected as South Dakota's first-ever female Governor.
In 2022, Governor Noem was re-elected with the largest vote total in the history of South Dakota.
As Governor, Noem has respected the rights of her people by trusting them to exercise their personal responsibility to make the best decisions for themselves, their loved-ones, and – in turn – their communities. She has focused on building stronger families and keeping South Dakota "Open for Business."
Despite all of this, Governor Noem often says that her greatest accomplishment is raising her three children, Kassidy, Kennedy, and Booker, with her husband Bryon. All have a deep love for their family and an even deeper love for the Lord.