Governor Gretchen Whitmer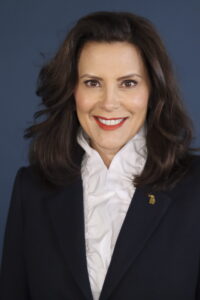 49TH GOVERNOR OF MICHIGAN
SWORN IN JANUARY 1, 2019
SECOND TERM
NEXT ELECTION: NOVEMBER 2026 
Governor Gretchen Whitmer is a lifelong Michigander who is focused on getting things done that will make a real difference in people's lives. As governor, she has signed over 900 bipartisan bills and four balanced, bipartisan budgets to deliver on the kitchen-table issues, grow the economy, and create good-paying jobs in every region of the state.
Since the governor took office, Michigan has announced 25,000 auto jobs, will fix 16,000 lane miles of road and 1,200 bridges by the end of 2022, and funded programs putting tens of thousands of people on tuition-free paths to higher education and skills training. She has worked across the aisle to empower Michigan's economic development and brought critical supply chains home from China to Michigan.
The governor has made the largest education investments in state history four years in a row, delivering the highest state per-student funding ever, increasing on-campus mental health resources, and helping hire thousands more qualified teachers. Additionally, the governor has expanded low or no-cost child care to 150,000 kids and enrolled 35,000 four-year-olds in affordable, high-quality pre-K.
Governor Whitmer has also protected clean water for every community, investing $4 billion to upgrade drinking water infrastructure and replace lead service lines, supporting 57,000 jobs.
Her leadership has been fiscally responsible, as she has made progress without raising taxes by a dime. She cut taxes for small business owners, paid down nearly $14 billion in debt, and brought the state's rainy day fund to an all-time high of $1.6 billion.
Governor Whitmer achieved this progress alongside three dynamic elected statewide leaders: Lieutenant Governor Garlin Gilchrist, Attorney General Dana Nessel, and Secretary of State Jocelyn Benson.
Governor Whitmer and her husband Dr. Marc Mallory live in Lansing with Kevin and Doug, the First Dogs of Michigan. Her daughters, Sherry and Sydney, are undergraduates at the University of Michigan. Her three stepsons, Alex, Mason, and Winston all live in Michigan as well. Governor Whitmer earned a bachelor's degree and law degree from Michigan State University.